Original post from The Homespun Chics: http://www.thehomespunchics.com/february-2016-pet-treater-review-coupons/
February 2016 Pet Treater Review + Coupons!
Pet Treater
is a new monthly subscription box for dogs that contains quality items for a fraction of the retail value. Box contents may include treats (made in USA or Canada only), interactive toys, accessories, grooming supplies, and more! For every box that ships, Pet Treater donates a toy, bag of treats, or blanket to an animal shelter in need.
The Homespun Chics received this box for review. All opinions are 100% our own. This post contains affiliate links.
---
Beijing could not wait to open up her Pet Treater box this month, but we decided to wait and bring it to my in-laws so we could share the bounty with all of her fur-uncles, aunts, cousins, you name it! There was a serious doggie posse and they all had a great time playing with everything during Super Bowl Sunday!
How It Works:
Dog Sizes:  Small (0 – 20 lb), Medium (21 – 50 lb), Large (51+ lb)
Pricing:  $34.99 for One Month Only (does not auto-renew), $24.99 for Month-to-Month, $22.99 for 3-Month, $21.99 for 6-Month, and $19.99 for 12-Month.
Subscription Box Monthly Schedule:  
*Consult Pet Treater's FAQ page under When and how does Pet Treater ship? for more info.
Orders placed/billed on the 7th – 16th      SHIP ON THE 27th
Orders placed/billed on the 17th – 26th    SHIP ON THE 7th
Orders placed/billed on the 27th – 6th      SHIP ON THE 17th
"Flash Sale" items (available through website) ship usually within 24 hours.
Flash Sale Items:  A featured item is displayed at the bottom of Pet Treater's Home Page. You have the option to purchase the flash sale item for a discounted rate directly on the site OR add the flash sale item to your cart and then add a subscription to your order and the item automatically gets shipped with your box for free!
Coupons Galore!!
*Enter this code at check-out to receive a FREE pet bed with your first subscription box! The bed size depends on the size of the dog you selected for your plan. If you set up multiple plans for your household, you'll receive a FREE pet bed with every plan!
$5.00 Off First Box:  CHICS-5
*Enter this code at check-out to receive $5.00 off your first box of any length subscription!
(Note:  Offers do not combine.)
---
This month's sticker is 100% truth right there.
February 2016 Pet Treater Theme:  Love is a Four-Legged Word
Look at those adorable, happy, kissy pups! Eeep!!!
As always, a personalized envelope addressed to Beijing (aka Beeba)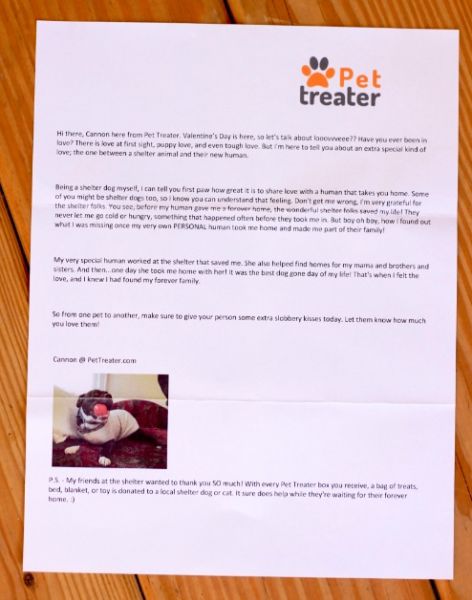 February's letter was written by Cannon, a shelter dog who found his forever home with his mom who worked at the shelter. He talks about being grateful for his time with the "shelter folks" and recalls the best day of his life, when his human brought him home! Jonathan rescued Beeba from a kill-shelter here in the mountains. He told me her owner said she was too much trouble and that she didn't want her anymore. Beeba was two years old and a complete sweetheart. We love her so much and are glad that Cannon took the time to remind us what this month is all about!!
Juliet handkerchief – Value:  $5.00?
This is the second handkerchief we have received from Pet Treater, and this one is even cuter than the last! (See our December review for pictures of the first handkerchief!) I have a suspicion that the boys received a blue Romeo hankie, but that's just a hunch… 😉
Look at our sweet "Juliet" pup!! C'mon, she's adorable, right??? She is still wearing her handkerchief, by the way… 28 hours later…
HuggleHounds Fur Ever Plush Heart – Value:  $6.99
This is the sweetest, corduroy-esque heart and felt really durable! The "Fur Ever" text is embroidered and the little heart contains a plastic squeaker inside.
The pups really enjoyed this toy! You can see my father-in-law, Kevin, making his Homespun debut… or at least his arms… So. Many. Dogs. And they all loved this toy! It also held up remarkably well with a whole day's play!
ASPCA Fleece Pet Throw 35″ x50″ (Brown) – Value:  $8.88
This is the perfect size pet throw to lay down on the couch or bed to keep your area clean of dog drool and fur! We're already doomed but plan on putting this on Little G's bed to help with cat fur. With six cats, we're doing the best we can. 😉
Nature's Recipe Oven Baked Biscuits 19 oz (Lamb Flavor) – Value:  $10.99
This is a huge bag of treats!! These treats have a "best before" date of 04/22/2016 and are made in the USA. Beeba still has an entire cabinet of treats from Christmas (I may have gone a bit overboard…) but I am still very pleased to see these lamb flavored treats. My mom's dog, Rocket, has a chicken allergy and I'm always on the look-out for treats that are chicken-free to give her. This huge 19 oz bag will go over great when mom & dad return from their Caribbean adventure and pick up the boys!!
Carolina Biscuit Co. Vegan & Grain Free Parsley Heart 4 oz. – Value:  $3.00?
This is an adorable heart-shaped biscuit made in NC by the natural & holistic specialty dog biscuit bakery, Carolina Biscuit Company! I do not believe Beeba and her fur-relatives have ever had parsley treats before, but they sure did like it!! (It was gone before I was able to capture the moment.)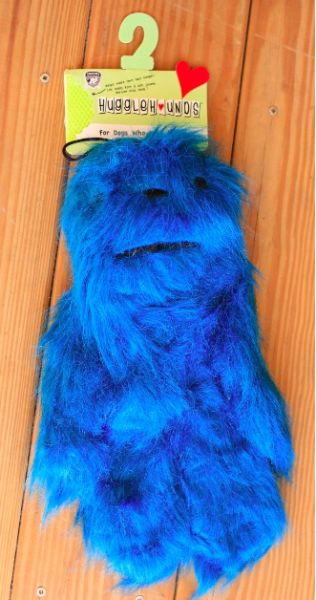 HuggleHounds Floppy Sole Toy, Large (Blue) – Value:  $20.14
Little G saw this toy and screamed, "COOKIE MONSTER!!!" This is a really cute toy that is under-stuffed, floppy, aaaand…
comes with rubber soles! Hehehe! So cute!
Kevin and I thought this would be the most durable toy in the box, but the dogs set out to prove us wrong… and that they did. This poor blue guy was a goner in under 2 minutes. Adorable? Absolutely. Can withstand five dogs tearing at it from all angles? Not a chance.
Pur Luv Mini Sizzlin' Strips 6 oz. (Chicken & Sweet Potato) – Value:  $5.67
Beeba gave me puppy eyes and asked that we sample these treats "for review purposes, of course." She told me that this bacon stuff was extra chewy, chickeny, and sweet potatoey… Made in the USA with "best before" date of May 2016.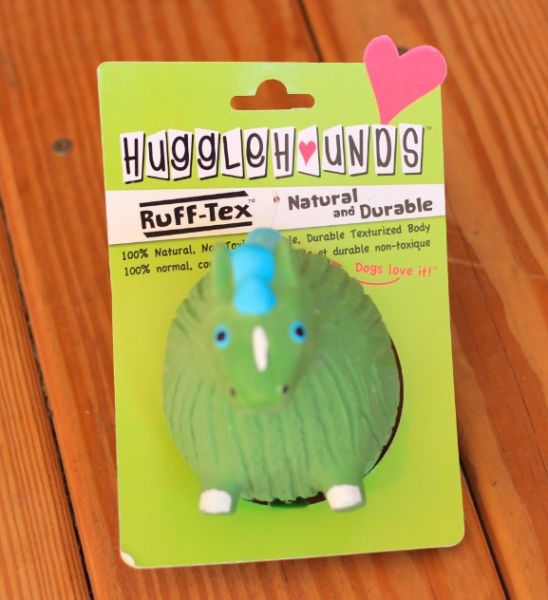 HuggleHounds Ruff-Tex Dog Toy, Large (Tony the Pony) – Value:  $12.08
Here is the final HuggleHounds toy out of the box! This is Beeba's kind of toy; rubber, squeaky, ball-like, and cute!
Here's a side view of the cutie!
Beeba was not about to let Kodiak get her toy. She was very patient sharing the rest of her bounty, but not with this toy!
Wise Dogs by H. Jackson Brown, Jr. – Value:  $11.85
Finally, our Pet Treater human treat! I love that Pet Treater provides the owner with a surprise gift every month too!
This book is adorable and contains lessons from our best pals on how to live happy and rewarding lives!
Ha!! The pictures just crack me up. What an awesome book to share with friends or display on the coffee table!
Our Thoughts
February Pet Treater Box Total Value:  $84.60
Pet Treater has the best overall value of any dog subscription box we've received and is always packed to the brim with an amazing selection of items! The February box was so much fun to open and Beeba had a great time reviewing all of the items with her fur family. It's only fitting that she shared all of her new toys and treats during the month of PUPPY LOVE!
Starting at $24.99 for monthly billing, you can't go wrong giving this box a shot! Don't forget, if you want to grab a FREE pet bed with your first month, click this link and enter the coupon CHICS-BED at check-out!  If you already have a pet bed, you can use the codeCHICS-5 to save $5.00 off your first box! Don't forget to add the bonus "Flash Sale"* item to your cart before adding your subscription to get it for free as well!!!
March's Theme is You Lucky Dog! We cannot wait to see what's in store for St. Patrick's Day!
xo
Sarah & Beijing
*Items are subject to availability.
What do you think of February's Pet Treater Box?